NILS CU Intra- Public Speaking Competition Champion 'Terrific Trio'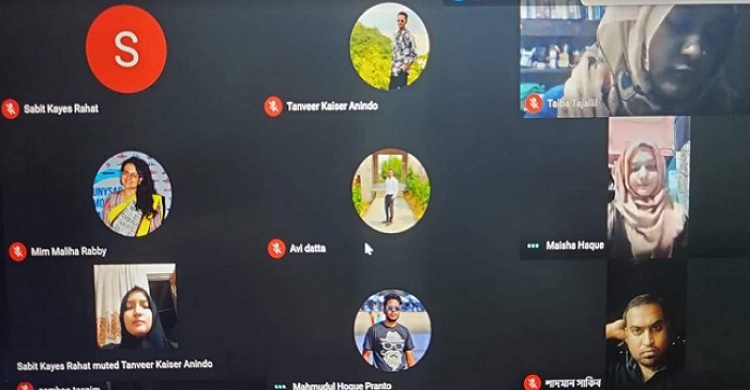 The University of Chittagong chapter of NILS Bangladesh, a non-profit institution contributing to the field of legal arena has organised two day long public speaking competition from 20 August -21 August titled 'NILS CU Intra Public Speaking Competition -2020' in an online platform through Google Meet. A total of 33 participants divided into 11 teams participated in this competition. The theme of the competition was 'Social problems in current situation' where the students placed their voice regarding COVID-19, Mental Health, Racism, Gender Equality, Impacts of Social Media and Corruption. The two day long competition was anchored by Farhan Iftekhar Fahim, Sabit Kayes Rahat and Fatima Zahra Ahasan Raisa.
The programme was adjudicated by Tanveer Kaiser Anindo, Convener, NILS CU Chapter, Shams Ark, Student Councillor, NILS CU Chapter, Shahidul Alam Chowdhury Tonu, Student Councillor, NILS CU Chapter, Afrin Nadia, Student Councillor,  Shadman Sakib, Executive officer Babylon group, former TAB director, CUDS, Taiba Tajalil, President Management Communication Club, Maliha Mim, Hult Prize, Top 6, Regional Finalist,London.
Distinguished guest speakers of the closing ceremony included, Professor Abm Abu Noman, Dean, Faculty of Law, University Of Chittagong as chief guest and Saeed Ahsan Khalid, Assistant Professor, Department of Law, University of Chittagong as guest of honour.
In the competition, championship was bagged by, Team Terrific Trio which included- Samhoo Tasnim Anila, Maisha Hoque and Mahmudul Hoque Pranto, Team Sworn Troops bagged the first runner up award which included Sayeeda Fahmida, MD Monirul Islam and Umme Naima Team The Challengers League bagged the second runner up award which included, Avi Datta, Umme Honey Eva and Taspia Akter Jumur. Team Justice Bringer bagged the third runners up award which included, Noor Muhammad Anas, Kaniz Tanima and Jannatul Ferdous Sayma. Md Monirul Islam bagged the award of Best speaker and Maisha Haque the Best emerging speaker.
---