Chief Justice Muhammad Habibur Rahman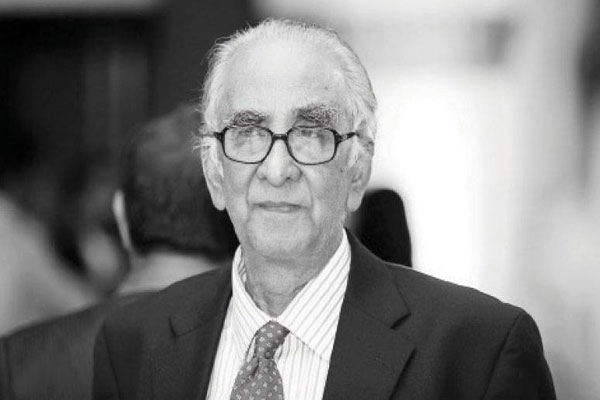 Muhammad Habibur Rahman (also known as Shelly) was a former chief Justice of Bangladesh Supreme Court. He was educationist, lawyer and jurist. He was the chief adviser of the 1996 caretaker government which oversaw the Seventh parliamentary elections in Bangladesh.
He was born on December 3, 1928 in the village of Jangipur of Murshidabad district, West Bengal.  His father Moulvi Jahiruddin Biswas was a lawyer, and his mother was Gul Habiba. Habibur Rahman passed matriculation examination (SSC) in 1945 from Jangipur High School and IA examination in 1947 from Presidency College in Kolkata. He got a BA degree in history, securing first class first from the Rajshahi University in 1949. He took his Master's degree in history, securing first class first from Dhaka University in 1951. In the early 50s, although he secured first class first in both BA and MA in history, he got into trouble getting employment because of the DIB report. He introduced an innovative way of protest for not securing a job by selling cigarettes at the main gate of the then Dhaka University (now Dhaka Medical College Hospital). When we asked, he used to say: "I have to work for a living." The government was embarrassed, and he was awarded a Commonwealth scholarship for higher studies in England.  Habibur Rahman obtained BA (Hons) and MA degree in Modern History in 1958 and 1962 respectively from Worcester College, Oxford. On completion of Bar-at-law from the Lincon's Inn he joined the English bar in 1959.
Habibur Rahman began his career as a Lecturer in History at Dhaka University on 1952. Later he joined Rajshahi University where he subsequently held the office of Dean of the Faculty of Law (1961) and of Reader in History (1962-64). Habibur Rahman changed his profession in 1964 and joined the Dhaka High Court bar. In his legal career he held the offices of Assistant Advocate General (1969), vice president of High Court Bar Association (1972) and member of Bangladesh Bar Council (1972).
Habibur Rahman was appointed a judge of the High Court in 1976, and judge of the Appellate Division of the Supreme Court in 1985. He was the Acting Chief Justice in 1990-91 and was made Chief Justice of Bangladesh in 1995. His juristic competence is demonstrated in his opinions and interpretations as pronounced in many of the Bangladesh Supreme Court's decisions concerning vital issues, such as, admiralty jurisdiction, amendment of the Constitution, citizenship, habeas corpus, administrative tribunals and court jurisdictions.
Justice Habibur Rahman participated in a number of international conferences of lawyers and jurists including the Conference of Chief Justices of Asia-Pacific in Perth, Australia (1991), Fourth Commonwealth Chief Justices Conference in Abuza, Nigeria (1992), First SAARC Chief Justices Conference in Kathmandu, Nepal (1995), conferences and seminars on law and human rights held at Saopaolo (Brazil), Kualalampur (Malayasia), Berlington (USA), Athens (France), Georgia (USA), Oxford (UK) and New Delhi (India). Habibur Rahman retired from service as Chief Justice of Bangladesh in 1995. As per constitutional provision, he took oath as Chief Advisor of the caretaker government for conducting the elections of the Jatiya Sangsad in 1996. He successfully pioneered the affairs of the Caretaker Government.
Justice Habibur Rahman was a Bhasha Shainik and his contributions to the Language Movement , 21 February 1952 of Bangladesh is remarkable. He was the first person to break the section 144 lead the first batch of procession. He went to prison for his active involvement in the language movement. He is an author of many books in Bengali on law, language, literature, poetry and religion.  Justice Rahman was awarded Bangla Academy Prize for Literature in 1984 and Ekushey Padak in 2007 for writings on diverse subjects. He is a Fellow of the Asiatic Society of Bangladesh; Fellow of the Bangla Academy; Honorary Bencher, Lincoln's Inn; and Honorary Fellow, Worcester College of Oxford University.
He was regarded as the "conscience keeper" of the nation.  Whatever position he held, he distinguished himself. On 11 January 2014, at the age of 85, Justice Muhammad Habibur Rahman died at United Hospital, Gulshan, Dhaka.
---