A Brief Discussion on Corporate Social Responsibility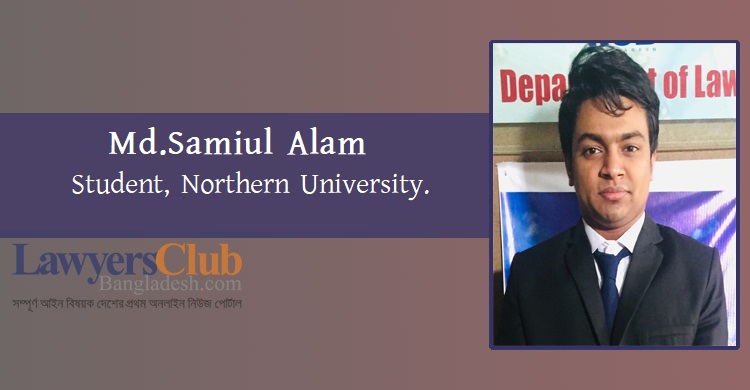 Md. Samiul Alam:
What is Corporate Social Responsibility?
Corporate social responsibility is a form of international private business self-regulation which aims to contribute to societal goals of a philanthropic, activist, or charitable nature by engaging in or supporting volunteering or ethically-oriented practices.
Invostopedia defines-Corporate social responsibility (CSR) is a self-regulating business model that helps a company be socially accountable—to itself, its stakeholders, and the public. By practicing corporate social responsibility, also called citizenship, companies can be conscious of the kind of impact they are having on all aspects of society, including economic, social, and environmental.
Companies express this socail conscience in three ways-
1.By conducting their waste and pollution reduction processes.
2.By contributing educational and social programme.
3.By earning adequate returns on the employed resources.
Company can show their CSR by donation also.A company can donate an amount to a educational Institute. This donation can be crore or it can be thousands. Because,all companies are not same.A huge company can donate crore but it is impossible for a new company.
In the developing countries, many multinational companies have been the major driving force for the recent surge in CSR activities in these developing nations. For example, campaigns against Nike's labour practices in its Asian supply chains and Shell's role in Nigeria had sparked substantial changes toward more responsible CSR practices in MNCs. Further, the domestic companies in the developing countries have contributed to CSR activities such as improvement of the infrastructure of education, health, and transport etc. Likewise, as the example of the Grameen Bank,instituted by Nobel Peace Prize winner Muhammad Yunus substantiates, a vital topic on the CSR agenda is the inspiration of small-scale entrepreneurship through micro-credit, and the financial empowerment of women and other disregarded minorities.
Evolution of the term CSR:Corporate Social Responsibility got fame in 1960.It is a developed concept in globally. But,in Bangladesh It's not a very common term.Honesty, the term CSR is totally underdeveloped in Bangladesh. People Don't about this term.But,It's a very important term for the corporate sector. To change the face of Bangladesh corporate sector, we should introduce the term CSR immediately. We don't have to go very far, we just have to look at our neighbor India. Let's see what they have done with CSR.
Philanthropy and CSR are not a new concept for India or Indian Companies. CSR in India has traditionally been seen as a philanthropic activity, which was more of a kind of voluntary spend rather than a statutory obligation under any of the statutes. If we look at the Indian heritage, there were three types of philanthropic or charitable activities which were traditionally practised namely Dana, Dakshina and Diksha. Dakshina was one which was given in exchange/return of something; Diksha was something thing which was given for your own enlightenment and Dana was the purest form of charity which was done without expecting something in return.  Keeping in view of Indian Tradition, this was an activity which was voluntarily performed by the people without any deliberation.  As a consequence of this, there is limited documentation on specific activities related to this concept. Further, the corporates entities in India such as Tata can self-esteem themselves on more than one hundred years of reliable business practices, including far-reaching philanthropic activities and society involvement.
India is the first country in the world to have a statutory compliance requirement on CSR spending whereas, in other countries like UK, France, Germany etc., there have been voluntary guidelines. The Companies Act, 2013 has instituted the idea of CSR under Sec 135 of the Companies Act, 2013, to the forefront and through its disclose-or-explain directive, is promoting greater disclosure and transparency.  The Act stipulates that companies which meet a certain set of criteria will have to spend at least 2% of their average profits in the last three years towards CSR activities.  Schedule VII of the Act, which lists out the CSR activities, advises communities be the focal point. On the other hand, by conversing a company's relationship with its stakeholders and assimilating CSR into its core operations, the CSR rules suggest that CSR needs to go beyond communities and beyond the concept of philanthropy.  In case, entities are unable to comply with the CSR provisions under the Act, they would be required to give explanations/reasons for not spending the amount on CSR activities. The approach is to 'comply or explain'. If they fail to do so, they would face action, including a penalty.
CSR provisions and applicability
According to Section 135, Companies Act, 2013, the CSR provisions will be applicable to private limited and public limited companies, as well as their holding and subsidiary companies and foreign companies that have offices in India and meets any of the following criteria:
Company must have a net worth of INR 500 crore of more in any financial year;
Company must have an annual turnover of INR 1,000 crores or more in any financial year;
Company must have a net profit of INR 5 crore or more during any financial year.
Companies that meet any of the aforesaid criteria must spend at least two percent (2%) of their average net profits made during the previous three financial years on CSR activities.
CSR Committee and Policy in India
Every qualifying company requires spending of at least 2% of uts average net profit for the immediately preceding 3 financial years on CSR activities. Further,the qualifying company will be required to constitute a committee of the Board of Director consisting of 3 or more directors.
The CSR committee shall formulate and recommend to the board,a policy qhich shall indicate the activities to be undertaken ;recommend the amount of expenditure to be incurred on the activities referred and monitor the CSR policy of the company. The board shall take into account the recommendations made by the CSR Committee and approve the CSR policy of the company.
Scope Activities under CSR
Schedule VII of Companies Act, 2013, provides a wide spectrum of activities which may be undertaken by the body corporates in India. Apart from the specified activities, the Government may prescribe any other activity which it thinks proper to be included within the ambit of CSR.The activities that can be done by the company to achieve its CSR obligations include
eradicating extreme hunger and poverty;
promotion of education;
promoting gender equality and women empowerment
reducing child mortality and improving maternal health,
combating human immuno-deficiency virus, acquired, immune deficiency syndrome, malaria and other diseases
ensuring environmental sustainability;
employment enhancing vocational skills;
social business projects;
contribution to the Prime Minister's National Relief Fund or any other fund set up by the Central Government or the State Governments for socio-economic development and relief and funds for the welfare of the Scheduled Castes, the Scheduled Tribes, other backward classes, minorities and women and
such other matters as may be prescribed by the government of India.
CORPORATE SOCIAL RESPONSIBILITY IN BANGLADESH
In Bangladesh,CSR activities have gained momentum, particularly in the banking sector,due to the enthusiasm of Dr. Atiur Rahman, governor of Bangladesh Bank. Unfortunately,there is no legal framework in the country, so that CSR activities could be brought under one-fold.It is left at the volition of the corporate executives. This may bring the danger of fund misuse,since an over-ambitious CEO may feel tempted to utilize the chance of fulfilling his personal ambition through maneuvering the CSR medium. Since independence, the state-owned banks have fallen victim to political exploitation. There is no reason to think that there has been any let-up to this exploitation.
Funding decorations of VIP roads or gala firework on the occasion of a state event does not fall within the ambit of CSR activities. Financing the arrangement of a golf tournament does not also fall within the purview of CSR activities.
According to a report published in the Financial Express on 29.8.2014,the government has suspended CSR (corporate social responsibility) activities of four state- owned commercial banks (SoCBs). These are Janata Bank Ltd,Agrani Bank Ltd, Rupali Bank Ltd and Bangladesh Development Bank Ltd. The suspension order was issued because these banks were conducting unformulated CSR activities.
As per the Draft Guideline prepared by Bangladesh Bank, banks and non-bank financial institutions will soon have to spend 2.5 percent of their net profits on corporate social responsibility (CSR) activities. The guideline is a landmark in the sense that it has also specified areas for CSR expenditure and imposed a ceiling on sectoral allocation.
Aecording to the proposed guideline, Education shall get at least 30 percent of the CSR funds and no other sector will be allowed to enjoy more than 15 percent  of funds a year.
Reference :
I write this article from the help of-
1.Lectures on Company Law by Mohammad Towhidul Islam.
2.Corporate Social Responsibility in India, blog.ipleaders.in
Writer: Student, Department of Law, Northern University Bangladesh.
---