The Epidemic of Extra Judicial Killing: Bangladesh Perspective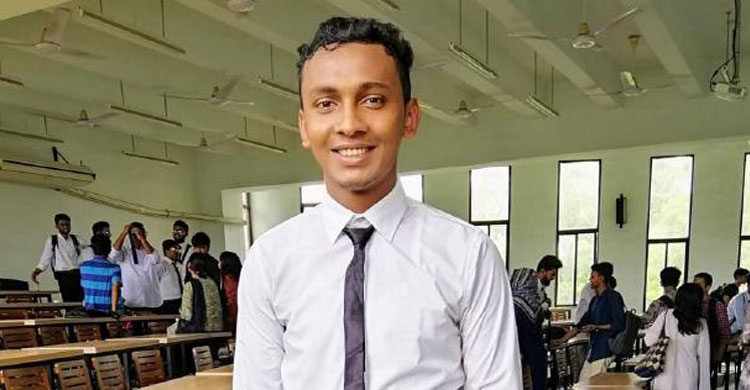 Avi Datta: In an independent democratic society, it is the core responsibility of the state to protect and promote human rights. All state institutions like police department, the army, the judiciary or the civil administration have a duty to respect human rights, and prevent human rights violation. But unfortunately the law enforcing agency violate the human right by doing so-called "crossfire" or "gunfight" or "encounter".
The shocking culture of extrajudicial killing has been allegedly carried by the Bangladeshi authorities for long time. In which most of the time law enforcement agencies failed to carry out a prompt, impartial, independent and effective investigation. The topic extrajudicial killing has again came into light after the killing of a retired army officer Major Sinha Rashed. All of the Human Rights Organisations and concerns criticized this extra-judicial killing.
Extra-judicial killings are basically refers homicides carried out by state officials in absence of valid legal proceedings or adequate due process of law. An extrajudicial killing is the killing of a person by governmental authorities without the sanction of any judicial proceedings or legal process.
Life is the most precious thing and nothing can be more fundamental than preservation of life. Therefore, right to life is one of the basic fundamental rights recognized by every legal system.
Extrajudicial killing in the disguise of so-called "crossfire" violates international human rights obligations of Bangladesh. Bangladesh has ratified most of the human rights treaties including, the International Covenant on Civil and Political Rights (ICCPR), International Covenant on Economic, Social and Cultural Rights (ICESCR) and Convention Against Torture (CAT). According to the articles 3 and 5 of "The Universal Declaration of Human Rights, everyone has the right to life, liberty and security of person and no one shall be subjected to torture or to cruel, inhuman or degrading treatment or punishment. Though UDHR is not legally binding document but according to article 2 and 6 of the ICCPR, the Bangladeshi authorities have the obligation to ensure the exercise of the right to life of the country's people and not to arbitrarily deprive them thereof. In cases where any violation take place, there is also the obligation to provide for prompt and also effective remedies. But this international obligation is being repeatedly violated due to the extrajudicial killings by the law enforcement agencies.
Moreover extrajudicial killings are unconstitutional as it violate the provision of Bangladesh constitution. Extrajudicial killings clearly violate articles 27, 31, 32, 33 and 35 of the constitution of Bangladesh. Article 27 of Bangladesh constitution states that all citizens are equal before law and are entitled to equal protection of law. Right to protection of law is ensured in article 31 which expresses that it is the right of all citizens to be treated only in accordance with the law. Besides article 32 expressly says that no person shall be deprived of life or personal liberty save in accordance with law. Article 35 ensured the right of protection in respect of trial and punishment which expresses that every person accused of a criminal offence cannot be punished without a fair trial in a court of law. So therefore, anyone suspected of being involved in crime has the constitutional right to defend himself and to fair trial. Besides an accused has a constitutional right to consult with his preferred legal practitioner which is recognized in accordance with article 33(1) of the constitution of Bangladesh. So extrajudicial killing of a person is the violation of his/her constitutional rights ensured in Bangladesh constitution.
In the eye of criminal justice system, an accused person is presumed innocent until proven guilty. Article 14.2 of the International Covenant on Civil and Political Rights 1966, which Bangladesh ratified in 2000, states that everyone charged with a criminal offence shall have the right to be presumed innocent until proved guilty according to law. Presumption of innocent is the vital right of accused. So how reasonable it is to kill an accused in the name of crossfire or encounter without proving his/her offence?
In the extrajudicial justice system that goes by the name of crossfire, suspected criminals do not get any chance to prove their innocence, and thus many innocent persons get capital punishment for crimes in which they are not involved. Blackstone's ratio states, "It is better that ten guilty persons escape than that one innocent suffer."
One of the basic principles of Natural Justice is "Audi Alteram Partem" which means no one is to be condemned, punished or deprived of his/her life or property in any judicial proceeding, unless he/she has had an opportunity of being heard. This principle of Natural Justice have been violated repeatedly by law enforcement agencies of Bangladesh through so-called crossfire. Our judiciary is entrusted with the sole responsibility of conducting a trial and ensuring Justice but if people are to be killed through crossfire by state officials then what is necessity of judiciary.
There are two legal maxims. One is "Justice hurried is justice denied" and the other is "Justice hurried is justice buried". Apparently the two maxims may seem opposite to each other. But justice will be ensured only when justice is provided by standing between this two maxims.
Justifiability of Extrajudicial killings
The state officials have all the time said that the deaths in the incidents are the results of either "gunfight" or "crossfire" and are not intentional at all. According to section 97 of the Penal Code, 1860 every person entitles with the right of private defence. It expresses that every person has the right to defend his life and properties any offence affecting the human body. Accordingly section 96 of the Penal Code states that nothing shall constitute an offence which is done in the exercise of the right of private defence. The law enforcement agencies in our country abuse this provision to hide the true nature of the so-called "crossfire". Section 99 of the Penal Code also states that there is no right of private defence against an act which does not reasonably cause the apprehension of death or of grievous hurt, if done, or attempt to be done by a public servant, or by the direction of a public servant acting in good faith under color of his office, though that act may not be strictly justifiable by law. A report publish in Amnesty International reveals that how the Bangladeshi authorities have failed to investigate deaths of people allegedly killed in " gunfights". So there is no justification behind extrajudicial killings. Extrajudicial killings do not have any kind of legal basis and thus are entirely unlawful.
The rates of extrajudicial killings are also increasing in our neighbouring country India. However the Supreme Court of India framed six guidelines in encounter cases in "People's Union for Civil Liberties vs. State of Maharashtra(2014)". The National Human Rights Commission of India asked all states and union territories of India to ensure that police follow a set of guidelines in cases where deaths is caused in police encounter.
It is often seen that people in our country do support so called "crossfire". The reason behind supporting crossfire is that the criminals are often getting exemption by the existing laws even after committing crime. There can be many loopholes in the existing laws. Further, we have been following century old laws made during British period. The laws enacted during the British period were not amendment as much as it needed to be. That is why, with the passage of time, the inadequacy of the laws has become obvious and the criminals are also using the loopholes of the law as a shield to get rid of punishments.
Without amending century old laws, relying on extrajudicial killings cannot be the ultimate solution of any offence and thus it would be obstacle in the establishment of lawful society.
At last in the advancement of a constitutional democratic country, such extrajudicial killings can never be the way of eradicating crime. The more the people of a country support such killings, the more innocent people will be killed.
It is high time that we the people stay strong to stop extrajudicial killing. The government should take effective steps and maintain zero tolerance against it. The culture of non-accountability needs to be checked. Besides Amnesty International provides 14-point program for the prevention of extrajudicial executions. Some of them are official condemnation, chain of command control, restraints on use of force, prohibition in law, investigation, international responsibility etc. which can also be followed by the government. Finally the Torture and Custodial Death (Prevention) Act 2013 must be enforced strictly to punish the state officials found guilty thereunder.
Avi Datta: Student; Department of Law, University of Chittagong.
---