390 species threatened in Bangladesh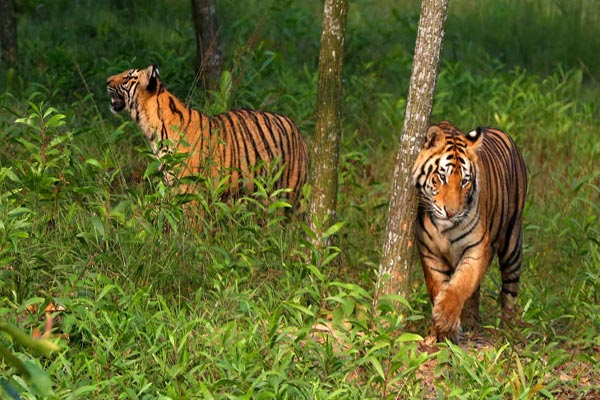 A total of 390 species are threatened in Bangladesh of which 3% are critically endangered, a study has found.
The International Union for Conservation of Nature (IUCN) Bangladesh disclosed the findings at a programme titled 'Updating Species Red List of Bangladesh' held in Dhaka on Wednesday.
The IUCN Red List of Threatened Species is a universally acclaimed index of the world's endangered animals that includes conservation status and extinction risk of animals.
The event disseminated the latest Red List status of the wildlife in Bangladesh that has been assessed over the last two and half years.
Among 1,619 assessed species, 50% of species are found as least concern, 2% as regionally extinct, 3% as critically endangered, 11% as endangered, 9% as vulnerable, and 6% as near threatened.
Thirty one species are categorised as extinct from the country including 11 mammals, 19 birds and 1 reptile.
The red list was published as part of Bangladesh Forest Department's project entitled 'Strengthening Regional Cooperation for Wildlife Protection (SRCWP)' funded by The World Bank.
The sub-project was implemented from December 2013 to June 2016 to reduce the current knowledge gap of conservation and risk of existing species status by updating the previous Red List of Bangladesh which was published in 2000.
Although the 2000 list covered conservation species of five species – Bird, Fish, Mammal, Amphibian and Reptile species in Bangladesh but the latest list added two more species – Crustaceans and Butterflies.
The latest Red List status has been published in seven volumes of books, which was also unveiled at the programme.
Project manager of Updating Species Red List of Bangladesh Mohammad Shahad Mahabub Chowdhury said: "This red list is not just a list but a conservation status of species.
"The Red List will help in monitoring status of biodiversity in the region, identifying priority species and habitats, and assist in site based conservation."
Addressing the programme, Deputy Minister for Forest Ministry Abdullah Al Islam Jakob said: "These books will facilitate the coordination and promotion of national efforts in effective policy making for ensuring appropriate and continual biodiversity management practice."
Yunus Ali, chief conservator of forests of Bangladesh Forest Department, said these books will be the catalyst for building awareness and creating consensus of conserving nature among the stakeholders.
IUCN Bangladesh Country Representative Ishtiaq Uddin Ahmed said the Red List data will help prevent wildlife trafficking and illegal trade of wildlife in the country.
The series of data will help formulate policies on preservation of species that remain endangered in the country, he said.
City Correspondent/Lawyersclubbangladesh.com
---