Workshop on PIL organised by ASK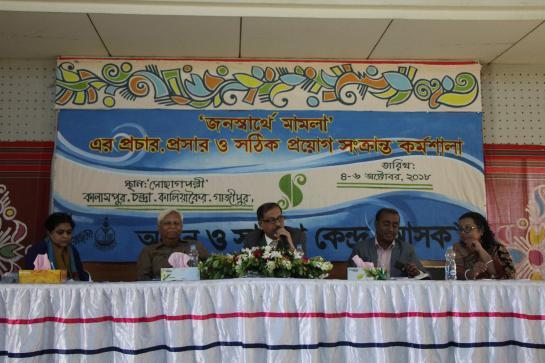 Ain o Salish Kendro (ASK) organised a two-day workshop on Public Interest Litigation (PIL) from 5th October to 6th October, 2018 was at Shohagpolli, Gazipur. The workshop was participated by diverse law professionals and NGO representatives as well as lawyers from different places of Bangladesh.
The event was designed to disseminate knowledge on public interest litigation amongst the enthusiastic activists and lawyers. The sessions aimed at highlighting the history, objective of PIL cases as well as portraying the development and challenges of such litigation in Bangladesh. Dilip Paul, Senior Coordinator, ASK, moderated the sessions. After the welcome remarks, the participants introduced themselves.
Nina Goswami, Senior Deputy Director, ASK, reflected on the objectives of the workshop. Workshop on Public Interest Litigation by ASK. 'History is never ending, it only moves forward and guides people' said Honorable Justice Nizamul Haq Nasim (Rtd) while speaking on the history of PIL. He warned against the misuse of the PIL cases and prohibited the lawyers from being a busy body.
The next session was conducted by Barrister Sara Hossain, Honorary Executive Director of BLAST & General Member of ASK. Sara Hossain expressed her concern to the effect many lawyers are using it as a means to garner attention, she despondently added. She opined that when and to what purpose the weapon of PIL needs to be used has to be properly assessed. Later on, she analysed the 18 directions of Court from the judgment of Naripokkho and others vs. Bangladesh others. On 18th April, 2018, the court directed those as law to be followed. Sara Hossain suggested that the guidelines be shared more and published for awareness.
Barrister Taposh Kanti Baul, Advocate, Supreme Court of Bangladesh, made a key note presentation on Public Interest Litigation and addressed the elements of PlL, the judicial creativity, and discussed the cases on PIL in Bangladesh shedding light on the challenges faced so far. He outlined the distinct nature of PIL cases in Bangladesh filed by the major organisations (ASK, BLAST, BELA, BNWLA, Bangladesh Mohila Porishad).
Honorable Justice Md. Ruhul Quddus said that if even one lawyer from each Bar dedicates himself to public Interest litigation, a lot can be achieved.
The first day ended with the concluding speech, by Md. Asaduzzaman, Advocate, Supreme Court of Bangladesh & Executive Member of ASK. He thanked everyone for their efforts put and appreciated everyone's active participation.
On the second day Abu Ahmed Faijulkabir, Coordinator, Ain o Salish Kendra (ASK), conducted a session on 'Sharing UPR Outcome of Bangladesh under Third Cycle of UPR.' Afterwards, Nina Goswami and DIlip Paul conducted sessions on'Present Situation of Ongoing cases, Existing Challenges and way forward' and 'Impact of ASK's intervention through Panel Lawyer's Litigation at District Level.'
---