DIU Holds Law Lecture on Child Rights in South Asia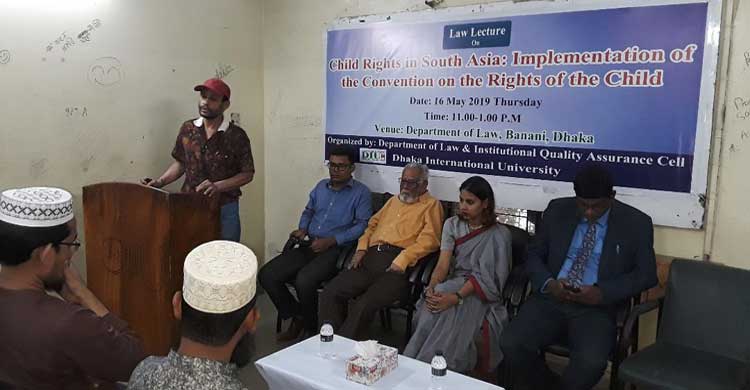 The Department of Law and Institutional Quality Assurance Cell (IQAC), Dhaka International University (DIU) organized a Law Lecture on 'Child Rights in South Asia: Implementation of the Convention on the Rights of the Child' held on Thursday, 16 May at itsBanani Campus.Barrister ShameemHaiderPatwary, MP & Vice-chairman, BoT, DIU was present as chief guest while Professor Dr. A W M Abdul Huq, Dean, Faculty of Law, DIU chaired the programme. Maina Sharma, Communications and Advocacy Officer, Global March Against Child Labour, New Delhi, India delivered the lecture on Child Rights in South Asia: Implementation of the Convention on the Rights of the Child. Abdus ShahidMahmood, Director, Bangladesh ShishuAdhikar Forum (BSAF) was also present while Raisul Islam Sourav, Assistant Professor & Chairperson, Department of Law, DIU moderated the session. Faculty members and senior students of DIU law department were also present among others.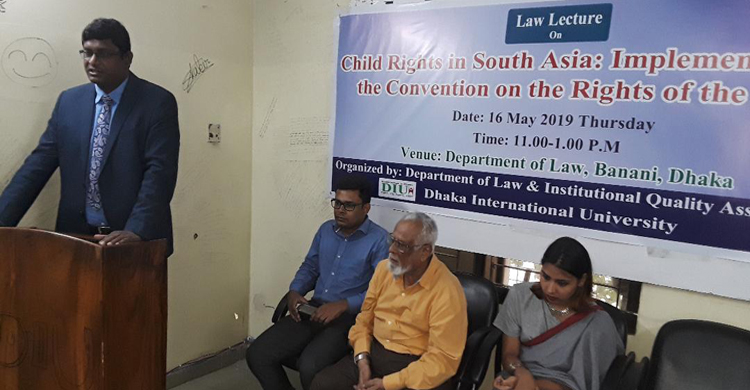 Abdus Shahid Mahmood focused on the present situation of child rights in Bangladesh. Child becomes more vulnerable as child torture, exploitation and rape are being highly increased in recent time. He proposed reform in the Children Act 2013 and urged for a rule under the said Act to be compliant with the Convention on the Rights of the Child (CRC). Maina Sharma portrait the scenario of child rights in India, Bangladesh, Pakistan, Sri Lanka and Nepal. She said Nepal has enacted law to ensure education for child domestic workers. Girls are more vulnerable as they have double burden to maintain the family and work outside and also subject to sexual exploitation, she added. Education with mid-day meal along with mental wellbeing is essential to uphold child rights in South Asia, she urged.There was a question and answer session as well where the participants of the law lecture expressed their views on the Children Act 2013 and asked questions to the speakers.
Barrister Shameem Haider Patwary, MP emphasized on budget allocation and proper implementation of the existing law to protect child rights. He urged for quality education for the children and a healthy environment for them.At the end Prof. Dr. A W M Abdul Huq thanked to all the participants for their valuable contribution to make the law lecture a successful one.
---