Grand Inaugural Ceremony of 6th NILS Mooting School held on online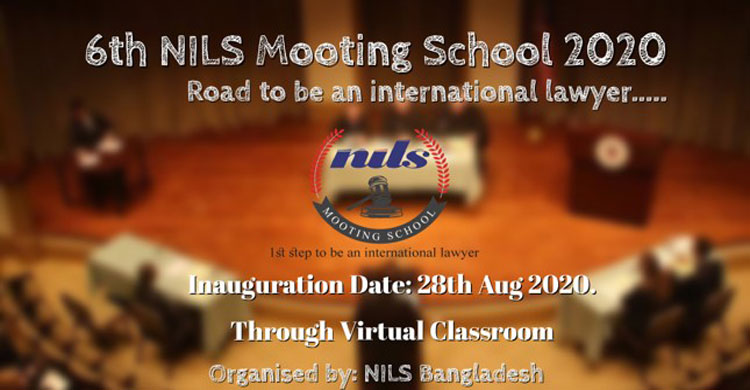 The Bangladesh chapter of Network for International Law Students, a non-profit institution contributing in the field of legal education, inaugurates its 6th edition of mooting school on 28th August, 2020, in an online platform through zoom.
The participants of this course are law students of different universities from whole Bangladesh. Under the supervision of the Joint coordinating Heads, Lutfunnahar Shancyi & Zahir Ul Hoque 16 coordinators will coordinate this one month long interactive certificate course. This coordinators are the Alumni of NILS MOOTING SCHOOL. 11 representatives from different universities represented their institutions as University Representatives.
Distinguished guest speakers of the inauguration ceremony included, Mohammad Golam Sarwar, Lecturer, Department of Law, University of Dhaka; Saeed Ahsan Khalid, Assistant Professor, Department of law, University of Chittagong; Moniruzzaman Sohan, Assistant Professor of Law & Proctor, Feni University; Sadia Siraj, Assistant Professor, Department of Law, Southeast University; Abdullah-Al-Mamun, Associate Professor, Department of Law, University of Chittagong; DR. S M Masum Billah, Associate Professor, Department of Law, Jagannath University; Christine Richardson, Associate Professor & Chairperson, Department of Land Management and Law, Jagannath University; Md. Assduzzaman, Associate Professor & Head, Department of Law & Human Rights, University of Asia Pacific ; Professor Dr. Farhana Helal Mehtab, Associate Dean, Department of Law, Daffodil International University and Professor ABM Abu Noman, Dean, Faculty of law, University of Chittagong.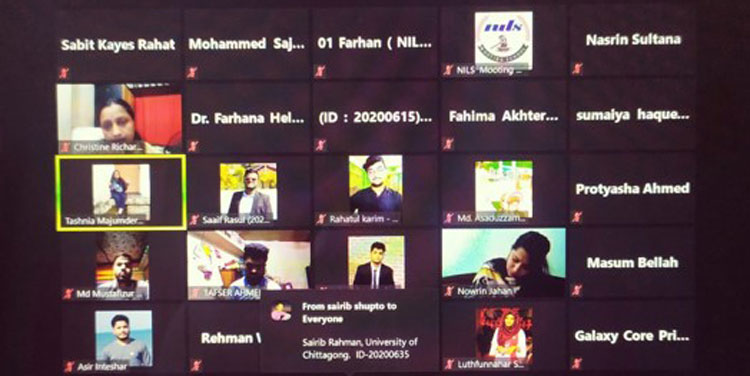 The speakers appreciated NILS Bangladesh for launching this event & exhibited their views on necessity of a furnished mooting course. In the speech, Mohammad Golam Sarwar has mentioned, the 6th NILS Mooting School will bring the best students of country in one platform. Saeed Ahsan Khalid has said that to foster a career as a lawyer, the learning of mooting is inevitable. Sadia Siraj has said that mooting is such a skill which gives an early opportunity to encounter life of lawyer. Professor Abm Abu Noman stated there were limited scope of mooting before under any institutional format but now NILS has provided it. NILS has the capacity to run activities all over Bangladesh.
Abdullah Al Mamun has said NILS is a leading student organisation which organises different skill development programme for law students and NILS Mooting School is the glaring examples of that. Moniruzzaman Sohan has said that for making a huge capable graduate, mooting is important & NILS has been arranging such programmes for a long time.
Dr. S M Masum Billah has said that NILS mooting school is a beauty of our legal education and it is going to add a new dimension in curriculum of moot court lawyering . He also added NILS can create a pro people lawyering tendency through social legal problem solving by mooting. Christine Richardson said that NILS Mooting is supplementing what we teach in class as we cannot cover the delivery to what we teach the students. Md Asaduzzaman has said that degree isn't enough & skills for practical field is important but no law department has introduced mooting in academics. NILS has fulfilled which universities has failed to include in academics. Professor Dr. Farhana Helal has said that in mooting it is important to be the master of facts & she thanked NILS for the initiative of mooting school.
The whole event was anchored by Lutfunnahar Shancyi and Tashnia Majumder Dyuti. Event covered by – Fatima Zahra Ahasan Raisa, Coordinator, 6th NILS Mooting School.
---