"NILS CU The Battle of Debaters, 2020"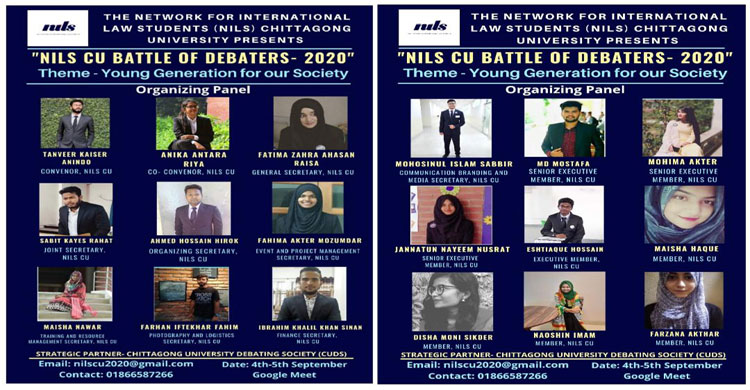 Maisha Nawar:
The Chittagong University chapter of NILS BANGLADESH is from time to time leaving footmarks in the legal arena with success even in this pandemic situation. In continuance of the glory this time NILS CU Chapter has successfully completed "NILS CU BATTLE OF DEBATERS, 2020" on the theme of 'Young Generation For Our Society '. The strategic partner was CUDS – Chittagong University Debating Society.  After the two days long training sessions NILS CU launched this two days long intra debate competition on 4th and 5th September, 2020.  The whole competition was divided into two stages, elementary round and grand finale.
The closing ceremony was ornamented by the honorable guests, Program Chair, Prof. Noman Abm Abu, Dean, Faculty of Law, University of Chittagong,Advisor, NILS Bangladesh, Chief Guest, Dr. Mohammad Morshed Imtiaz, Special Judge ( District and Sessions Judge),Special Judge Court, Mymensingh, Special Guest, Dr. Badiul Alam Pavel, Additional District Magistrate, Chattogram, Intiser Bin Ismail, President, Chittagong University Debating Society-CUDS, Mohammad Sajjad, General Secretary, NILS Bangladesh.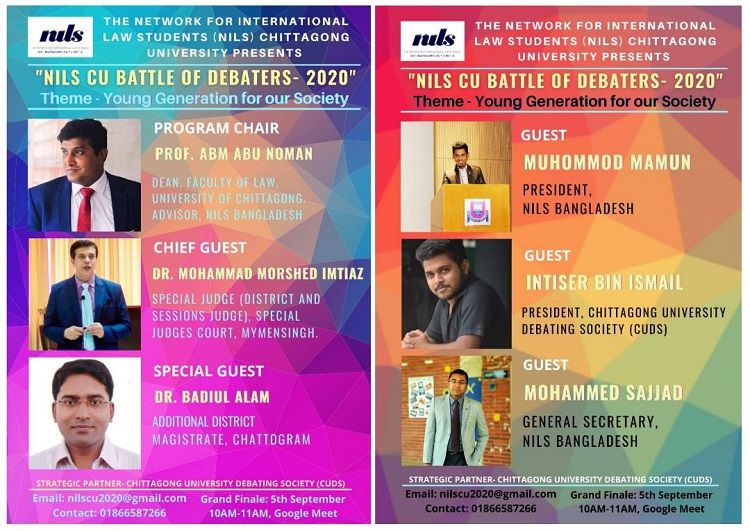 The adjudicators were -Moriam Jahan Sayma, Joint Secretary, Md. Hasib Khan, Debate Secretary, Arjon Tripura, Research and Development Secretary, Jannatul Naim Pritha, Office Secretary,  Minhajul Islam, Media secretary, Omit Hasan Bipul, Campus affairs secretary, Muhammad Bakhtiar, Full Member of CUDS.
The anchors of the closing ceremony are Anika Antara Riya,  Co convener, NILS CU Chapter  and  Ahmed Hossain Hirok, Organizing Secretary, NILS CU Chapter.
The Convener of NILS CU Chapter Tanveer Kaiser Anindo presented the journey of NILS CU Chapter which included its glorious achieving history.
Team Dynamics (Samhoo Tasnim Anila, Asif-ul-Ghani & Tasnim Nuha)bagged the championship & Team Legal Alliance bagged the runners up (Md Raisul Hoque, Abhizeet Barua & Jannatul Ferdous Sayma) award.
The debaters of the tournament were Asif Ul Ghani & Samhoo Tasnim Anila. The best speakers were Jannatul Ferdous Sayma & Samhoo Tasnim Anila.
Maisha Nawar: Training and Resources Management Secretary,  NILS CU Chapter.
---